A Short History of Delaware Quarries, Inc.
For over 60 years, from our original location on the banks of the historic Delaware River, we've quarried and sold the finest quality stone veneer for jobs nationwide. Our main quarry has been in operation since 1758. From it and our other locations, we provide an unsurpassed range of colors, textures, and varieties of premium grade guillotine cut stone and uncut natural fieldstone
Joseph Busik founded Delaware Quarries, Inc. in February 1946. He had just returned home from flying B17's over Europe in World War II. The Lt. Colonel purchased America's oldest operating quarry which had been operating since 1758, on the banks of the Delaware River, in Bucks County, PA. In the beginning, Joe would cut stone early in the day, and then at night would put on his salesman hat and go out to sell the stone veneer that he had just produced. Princeton University was one of Joe's first customers. Delaware Quarries supplied all of the Argillite and Sandstone veneers on their buildings constructed after WWII, and Princeton University continues to buy stone veneer and flagstone from us today. Some of the University buildings faced with our veneer are:
The new Graduate Dorms
The Engineering Quadrangle
The Princeton University Store
Institute for Advanced Study
The Gymnasium
The Educational Testing Service Center
Delaware Quarries, Inc. is the industry's most recognized supplier of building stone. We have supplied stone for 200,000 square foot institutional jobs, as well as stone for small fireplaces all over the world. When you buy stone from Delaware Quarries, Inc. you are getting the industry's most knowledgeable people as well as a company who has been honored by it's peers from all over the world.
The Building Stone Institute (BSI), the trade assocation of the Decorative Stone Industry, has presented Delaware Quarries with many awards, and has recognized us as America's largest stone supplier.
Delaware Quarries has recently begun a program that we call "Delaware Quarries University". This program was implemented to train our employees in all aspects of building stone, from the quarrying and processing to the sale and installation of this material. Our goal in using DQ University is to have the best employees in our industry.
A quote from the book entitled "Stone as a Building Material" published in 1972 by William M. Rivinus, in conjunction with local Historical Sociteties, and nationally known photographer Michael Smith, states that "Most inquiries about stone in this region will lead to Delaware Quarries."
Today, Delaware Quarries, Inc. is owned by J. Kevan Busik, the son of Joe Busik. At the age of 11, Kevan had already begun helping his father in the quarry, and after graduating college in 1972 became a full time member of the DQ team.
Kevan was elected President of the Building Stone Institute at their 2000 annual convention. A few years later, at the 84th annual BSI convention, Kevan was named "Man of the Year". BSI members from around the world honored him for his principals, honor and integrity. Kevan and Joe are the only Father and Son past Presidents that were both elected Man of the Year.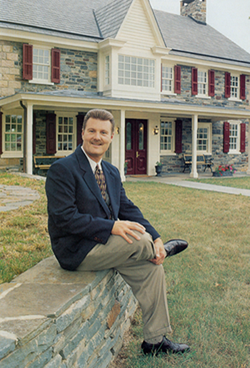 Delaware Quarries, Inc. owns and operates over 8 facilities, and is headquartered in New Hope, PA. We also have agreements with other stone quarries where we quarry stone. The combination of these quarries has enabled us to offer the largest selection of building and landscape stone in the industry.
Delaware Quarries, Inc. makes it possible to single source all of your building stone needs. From a decorative garden wall to a lavish corporate headquarters, from a beautiful new home to an architecturally significant university building, all sizes and all kinds of jobs can be supplied promptly...and to your exact specifications for the type of stone, size, shape, and color. When Delaware Quarries is your source of stone, you are assured an uninterrupted flow of material for all of your stone needs.
Delaware Quarries, Inc. is also the largest supplier of decorative landscape stone in North America. Our 300 plus acre DQI-Montrose facilities, which include 65,000 square feet of warehouse space, along with our retail locations in Langhorne and Lumberville Pennsylvania, together with our Pebble Junction location in Sanford, Florida stock thousands of pallets of Wallstones, Pennsylvania Bluestones and Flagstones, Boulders and Garden Steppers. We also stock a large selection of bulk and bagged gravels, masonry tools, weed fabric, edging, and stone cleaners and sealers.
Delaware Quarries, Inc. is the name to remember for service, quality and competitive pricing. If you can't find the stone you need at Delaware Quarries, maybe nature hasn't produced it.